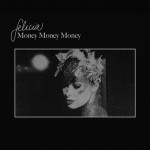 We proudly present our brand new artist Felicia and her very first single "Money, Money, Money". About choosing to do an Abba-cover she says:
"'It's a rich man's world' is the essence of the song. A quick look at that phrase and another at what is going on in the world and we all know 'the rich man'. It is his world we live in. It does not have to be about money or a person. You can be rich in other ways, privileged. My version of 'Money, Money, Money' is about how much easier it would be to stand on the same side as the money and the power, holding hands with the privileged. 'The rich man', whoever that is, needs to understand his power. He needs to understand the effect of his wealth on the world surrounding him."
Produced by Markus Sjöberg and Petter Näse. Recorded by Markus Sjöberg and Petter Näse. Mixed by Markus Sjöberg. Mastered by Eric Broyhill at MonsterLab Audio. Written by Benny Andersson and Björn Ulvaeus.
Cello: Anna Dager. Violin: Hanna Ekström. Upright bass: Clas Lassbo. Drums and percussion: Jesper Hättander. Guitar: Petter Näse. Piano: Markus Sjöberg.